Deserted Island DevOps is a single-day virtual event, to be livestreamed on twitch.tv/desertedislandtv on September 14th and 15th, 2022. All presentations will take place in the world of Animal Crossing: New Horizons.
As this is a community event that's free to attend, we encourage viewers or anyone that gets something out of the talks to make a donation to the conference's preferred charity, The Trevor Project.
History
Deserted Island DevOps started in 2020 with the goal of presenting a virtual conference that wasn't just another really long Zoom call.
How does it work for presenters?
Presenters will need a copy of Animal Crossing: New Horizons for the Nintendo Switch. You'll be given a Dodo Code (along with up to 7 other co-presenters/audience members) that you'll use to connect to the designated island at a specified time. In addition, you'll dial into a Zoom call. The producers will be streaming both the ACNH island in addition to the slides being presented over the Zoom call to Twitch. It'll look something like the following: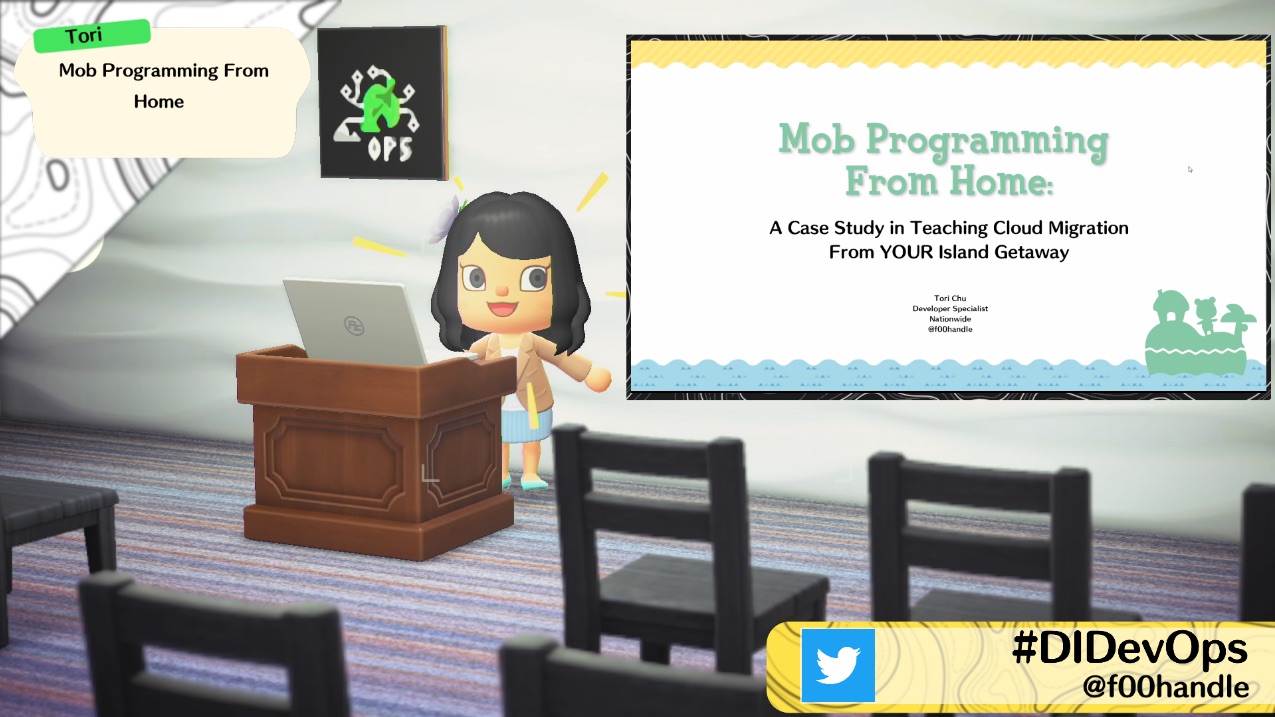 Production will switch between the small version of the slides and a full-screen version so that the audience will be able to actually read the text. It'll look a lot like the video in this tweet!
still not sure if you should attend #DIDevOps? check out this preview and register at https://t.co/94dZJ5kMY3! pic.twitter.com/cbYDZ7HHRo

— austin from BOO! 👻 york (@austinlparker) April 22, 2020
FAQ
If I'm just watching, do I need a Switch?
You don't need a Switch or Animal Crossing in order to view and participate in the event! Tune into the stream when it's live and join the Discord server to chat with other attendees!
Are the sessions recorded?
Yes, we'll be recording and posting everything to YouTube after the event.
Will there be closed captioning?
Yes, closed captioning will be available.
Registration is highly recommended for early access to session recordings, as well as the ability to sign up for a VIP ticket! VIP ticket holders grant you access to two exclusive panels, as well as an event t-shirt. All proceeds (after costs) go to our event charity, The Trevor Project. You can register here.
Code of Conduct
Please find our Code of Conduct here.
Acknowledgements
Thanks to Sessionize for allowing free use of their CFP tool.
Thanks to Nintendo for making Animal Crossing.
Here's a list of the music that's being played during breaks -